Top Voted Concrete Staining Company In DFW
Stained concrete has a unique beauty that has brought luxury to the flooring industry. Stained concrete is an affordable and highly versatile design option. Thanks to the decorative qualities and benefits of staining concrete floors, you can easily transform a regularl concrete slab into a masterpiece.
Create excitement with color-?For decades, designers and contractors have been using stained concrete to color up plain concrete floor and slab surfaces. While stains are more naturally inclined to deliver hues in the earth tone spectrum, they produce a look that resembles natural stone, marble, wood, or even leather. The coloring technique and possibilities with acid stains are truly remarkable
There are a number of color choices that are available with stained concrete interior floors and stained concrete outdoor floors. For instance, green, blue, purple, brown, red, tan, earth tone spectrums all are possible with a fresh and elegant appearance. There are ways by which you can bring life to your surface while avoiding the hassle of ripping it out. You can also experiment with bright, bold and lively color to get a subtle and loud effect as per your requirement.
Get the look of natural stone, marble, or pavers without the cost associated with these authentic materials. And, relish the benefits offered by stained concrete. Dallas Epoxy Pros contractors will install stained concrete floors in residential, commercial, and institutional spaces for a variety of interior and exterior applications.
Benefits of Stained Concrete
Staining concrete has become a popular floor treatment throughout the decorative concrete industry due to their versatility, ascetics, and cost. They have the added luxury of having a long-lasting surface that is durable, permanent, and flake-proof and wear-resistant- – ensuring long-term functionality and visual appeal, with little-required maintenance. In addition, the customization choices with stained concrete are really gratifying. The design options are really endless providing you with an opportunity to enhance the beauty of your existing floor.
In addition to all this, it is important to keep in mind that stained concrete floors can be absolutely gorgeous in or around any building. All you need is to find a reliable service provider who has experience providing excellent craftsmanship and customer service. If you search, be careful not to fall victim to these myths.
Stained Stencils
To start you on your way to achieving the classic look, decorative effect stained stencils are just the tip of the iceberg. Another interesting option is a decorative effect achieved through the use of stenciling. Intricate stencils will give a unique design, logo, onto your concrete floor. For instance, you can take a corporate logo into the entryway of their office complex.
Imitating Other Floor Types
Stenciling can be used to imitate a wide number of flooring options. You can use patterned stencils that give the look flagstone, slate, diamond tile, marble, herringbone brick and much more. For added functionality, concrete can be polished and further enhanced to give an artistic look to your concrete floor.
Stained CONCRETE FINISHING
A great Stained concrete finish can be exactly what you need to differentiate your floor. We provide many different staining options. The most common concrete finishing process is creating a smooth surface through the use of screeds and trowels. Once the floor is grinded, we'll stain before we polish the concrete.?This will provide a unique end result. The concrete dye spreads out and can make very pretty decorative designs as it sinks into the porous concrete. Our contractors are all thoroughly trained in concrete staining and will make sure you get the right result on your slab the first time we do it.
A well maintained stained concrete guarantees a mature life and does not require much of replacement. Even if in rare cases, it asks for replacement; it can be brought up to life with reapplication or slight touch up of the coating.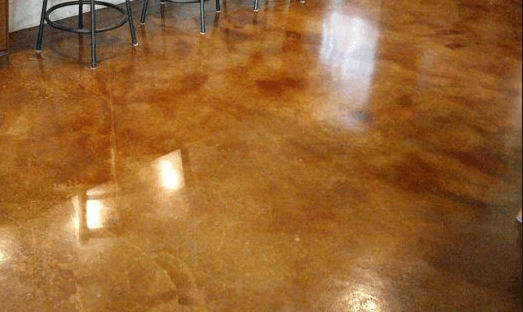 Dallas Epoxy Pros love concrete staining. If you are looking for stained concrete in your home, business, hotel, development, warehouse or backyard, we can get the job done right. We've done it all before.
Epoxy Pros is such a company with many years of experience and reliable stained concrete flooring specialist. Dallas Epoxy Pros is an industry leader in commercial flooring. We have technologies and the tools that will help you find that perfect flooring materials. Stained Concrete is one of the Epoxy Pros specialties.
Why Choose Us?
We Do Proper Evaluation Before Acid Staining of Concrete:
We do these floors after a thorough evaluation of aspects like the existing condition of the floor, stain suitable for its finish, and method for preparing the surface before the application. These factors must be evaluated by a team of experts well-versed with the nuances of the stained concrete floor. We can offer you customized solutions with a guarantee of durability.
We Have Proper Equipment:? Our company is well-equipped with machinery and raw materials required for acid staining concrete. We give you an edge over DIY enthusiasts ready to take on such projects with the help of online resources. Our professionals use industrial grade stains for better results and longer life.
We Save Your Time and Money:? We have sufficient experience working in this field. Hence, we can leverage upon this expertise to save your time. Our team is adept at finishing the projects within specific time and budget. They understand the individual needs of every project and provide solutions accordingly. If your budget allows, we can offer diamond polish on acid stained concrete floors.
We Can Handle the Aftermath:? In case your flooring requires sealing and polishing, we can suggest you the best measures in this regard. We can prevent any flaws in the application and make repairs as and when required.
What are you waiting for?